Providing the Mosinee community with personalized dental care for all ages.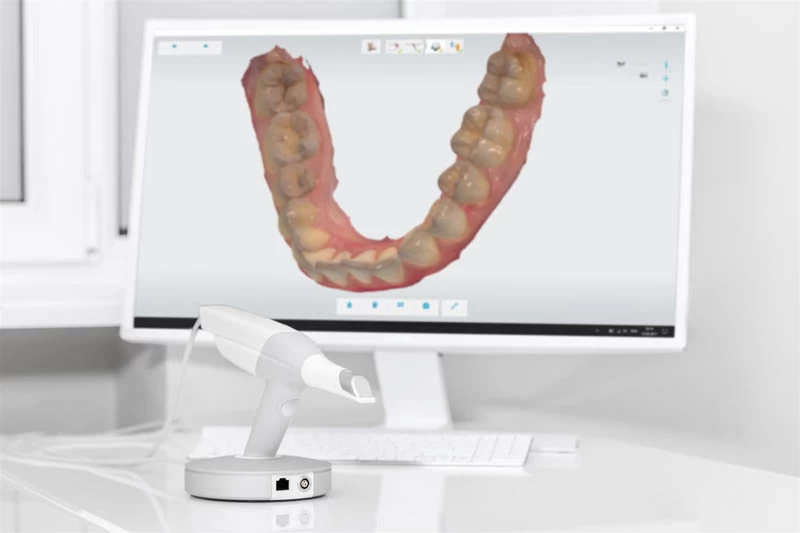 Wausau Smiles is pleased to feature state-of-the-art dental technology in our office. We strive to provide you with a modern, comfortable environment, and our technology allows Dr. Aaron Bushong and our team to offer treatments that are more precise, efficient, and convenient. We invite you to call us today at 715-842-3933 for more information about dental technology in Wausau, Wisconsin, and schedule your consultation with our caring dentist.
Our dentist and team are dedicated to continually providing you and your family with the highest available level of care. We are committed to meeting all of your dental needs and to providing you with a dental experience that is comfortable and pleasant each time you visit us. To help us achieve these goals, we are pleased to offer the benefits of state-of-the-art dental technology. Dental technology includes a number of cutting-edge tools, equipment, techniques, and materials we use at our dental office to ensure you receive high-quality, gentle dental care. Our dentist and team have received the necessary training to utilize advanced dental technology to enhance your dental care and health.
We strive to use advanced dental technology to make your dental experience as efficient, comfortable, and enjoyable as possible. For example, our diagnostic equipment aids us in making quick, accurate diagnoses and helping us effectively plan your treatment. We strive to utilize the latest, most advanced technology available to provide you with the best possible experience and care every time you visit our office. Each of our different types of dental technology has its own benefits, and we invite you to continue browsing our website and contact our dental practice to learn more. We look forward to hearing from you soon!
You can experience advanced, accurate dental care at Wausau Smiles with the use of 3D imaging. If you are interested in the advantaged of this equipment, please contact our team at 715-842-3933 to arrange your appointment with Dr. Aaron Bushong. We look forward to providing you with 3D imaging in Wausau, Wisconsin.
At our office, we are committed to utilizing advanced dental technology to always provide you with the highest level of dental care. We are proud to utilize cone beam 3D imaging technology at our dental practice. Cone beam 3D technology is an imaging system that provides our dentist and team with a three-dimensional image reconstruction of your teeth, mouth, jaw, neck, ears, nose, and throat. Our dentist may use dental cone beam 3D imaging to:
Plan dental implant placement
Evaluate the jaws and face
View the head and neck as a comprehensive whole
Diagnose tooth decay (cavities) and other dental problems
Detect endodontic problems and plan root canal therapy
Analyze dental and facial trauma
Plan and evaluate the progress of orthodontic treatment
Visualize abnormal teeth
Assess a TMJ disorder
Cone beam 3D imaging is effective for diagnosing and evaluating dental conditions, as well as planning treatments. One of the advantages of 3D cone beam technology is that it provides our dentist and team with a view of your mouth and supporting structures that is more comprehensive than that provided by digital X-rays. To learn more about cone beam 3D imaging and how it helps us provide you with exceptional care, we invite you to contact us today.
To better understand the needs of those with TMD (temporomandibular joint dysfunction), Dr. Aaron Bushong integrates technology with service. If needed, we can use JVA, Joint Vibration Analysis, as a computer-based tool that increases patient diagnosis and progress. With JVA, a patient's joint health is monitored before, during, and after treatment to access their response to treatments.
A patient with TMD will have vibrations in their temporomandibular joint, or TMJ, as they open and close their mouth. JVA equipment looks like two headphones which are placed adjacent to the jaw bone, just below the ear. Next, we test your joint vibrations and detect its severity. Our dentist then uses these results to understand and explain his more accurate diagnosis of your TMD. From there, treatment can begin based on the causes and condition of your TMD. Treatments range from a bite guard to BOTOX injections to surgery. So, the more clearly your TMJ function is measured, the more applicable care we can provide to you at Wausau Smiles. We look forward to improving your oral health and comfort with this service; although, we know that you may have questions and concerns about this service. Please contact our office at 715-842-3933 to learn more about the advances of JVA treatment in Wausau, Wisconsin.
Dr. Aaron Bushong uses T-Scan imaging to take in-depth X-rays. T-Scan imaging produces high-quality images that are used to more closely diagnose and examine infections and jaw problems, and to plan implant placement. To learn more about T-Scan digital imaging in Wausau, Wisconsin, and to set up your appointment with our experienced dentist, contact Wausau Smiles today at 715-842-3933.
Digital X-rays are one of the advanced diagnostic tools we use to provide you with the best possible care. Digital radiography has changed the way we take dental X-rays by making the process faster, more comfortable, and more convenient than ever before. Digital X-rays use a digital sensor to take images of your teeth, unlike traditional X-rays that use film. Digital X-rays use significantly less radiation than conventional film X-rays, and they require the use of no chemicals for developing the images. Our dentist can then instantly view the high-quality images on monitors right in the treatment room to provide you with efficient, accurate diagnoses and care. Our team is able to use digital radiography to identify and diagnose several types of dental problems, such as:
Decay in between teeth
Developmental abnormalities
Improper tooth root positioning
Cysts and abscesses
Fractures in existing fillings
Tumors
Infection in the tooth nerves
Bone loss
We may also use digital dental X-rays to plan certain kinds of dental treatment, such as oral surgery procedures, root canal treatment, dental implants, and more. To learn more about digital radiography and how we use X-rays at our office, we welcome you to call or visit us soon.