Providing the Mosinee community with personalized dental care for all ages.
General & Family Dentistry
Mosinee Smiles enjoys accepting customers of all ages and provides a comprehensive range of services to aid in the prevention and treatment of dental issues so that you can have a healthy smile. Our skilled dentist and staff make every effort to put each of our patients at ease. They also work with you to create a treatment plan that is specifically tailored to your needs. To schedule a consultation with Dr. Aaron Bushong and learn more about general and family dentistry in Mosinee, Wisconsin, give us a call at 715-842-3933 right away.
A variety of dental procedures are included in general and family dentistry with the goal of assisting you in achieving and sustaining lifetime oral health. We are here to take care of your family's smiles whether you are bringing your child in for a routine dental checkup or you require a more involved restorative operation, like a root canal. To meet all of your dental needs and to help you achieve your objectives for a healthy, attractive smile, our skilled dentist is glad to offer full-service general and family dentistry.
All of our patients are encouraged to come see us at least once every six months. We will do a comprehensive dental cleaning and examination during these regular visits to make sure your smile is in good condition. You might need to visit our clinic more frequently depending on your particular dental needs. We kindly ask that you get in touch with us right away if you feel any kind of oral pain or damage, or if you have a dental emergency so that we can provide you with the high-caliber dental care you require. We invite you to get in touch with us right away to learn more about our dental services and to arrange your family's next visit to our welcoming office. We want to take good care of you!
Children's dentistry is offered by Dr. Aaron Bushong in Mosinee, Wisconsin, to get your kid started on the road to a lifetime of beautiful smiles. We go above and beyond to ensure that your child has pleasant associations with going to the dentist, and we provide a wealth of tools to help you learn how to help your child take care of his or her teeth. Call us right away to find out more and set up an appointment for your child at Mosinee Smiles. Being your child's dental home makes us very happy!
We take pleasure in caring for patients of all ages, including children, at our office. We are happy to offer pediatric dentistry to support you in maintaining the health of your child's smile. Every six months, we invite you to bring your child in for a routine dental exam and cleaning at our office. At this appointment, your child's teeth will be expertly cleaned by our caring dentist and dental staff, who will also look for any indications of dental issues like tooth decay. Our dental team is gentle and loving, and we are confident that we will make your child feel at ease. We are committed to ensuring that your child and the dentist have a healthy, trusting connection from an early age because we recognize how crucial it is, when visiting our office, your child feels at ease and secure. We encourage you to call our dental office if you have any queries concerning the dental health or oral development of your child.
You should assist your child develop good oral hygiene practices at home in addition to bringing them in for routine checkups at our clinic. Help your child maintain a balanced, healthy diet by teaching them to brush and floss their teeth every day. To find out more about kids dentistry and how we can help you and your family, we urge you to contact or come by our dental office right now.
One of the most critical components of your continuing dental care is getting regular cleanings and exams. These preventive procedures enable us to keep an eye on your oral health and swiftly administer any necessary care to restore your smile's health and preserve a healthy mouth. Every six months, we advise that you visit our kind dentist for a cleaning and examination of your teeth. Call Wausau Smiles at 715-842-3933 right away to schedule a consultation with Dr. Aaron Bushong and to find out more about dental cleanings and examinations in Wausau, Wisconsin.
Two of the most fundamental yet significant preventive procedures we offer at our office are dental cleanings and exams. Every time you come in for a checkup at our dental office, we'll give you a thorough teeth cleaning and examination to keep your smile healthy. Our dental experts will: During your examination and teeth cleaning:
Clean your teeth by removing any plaque or tartar (also called dental calculus), which can lead to tooth decay and periodontal disease
Floss and polish your teeth for a healthy, bright smile
Examine your smile for signs of any damaging dental conditions or diseases
To further assess your smile and make sure you get the dental care you require, we use dental X-rays. In order to maintain good oral health, prevent cavities and gum disease, and ensure that any harmful problems are treated as soon as possible, regular dental cleanings and exams are necessary.
For a routine cleaning and examination of your teeth every six months, our dentist advises that you come see us. If necessary, we might advise more regular visits. We also invite you to get in touch with us if you experience a dental emergency, pain, or accident. We welcome you to get in touch with us right away to set up your next appointment. We are eager to take care of your smile!
Dental sealants are offered by Dr. Aaron Bushong to prevent cavities and maintain the health of your smile. While children are frequently given sealants, adults who are more susceptible to tooth decay can also gain from this preventive measure. Contact Wausau Smiles at 715-842-3933 for additional details or to schedule a consultation with one of our experienced dentists.
Our dentist may suggest a sealant as a preventive dental procedure to guard against tooth decay. It is painted onto the chewing surface of the tooth and is made of clear or tooth-colored resin. The sealant stops tooth decay and cavities by keeping out the bacteria and food particles that cause them. The natural pits and grooves of the tooth surface are covered by the dental sealant, creating a smooth surface that also makes it simpler to properly brush your teeth.
Our dentist regularly suggests sealants for permanent molars as soon as they erupt, which is typically between the ages of 6 and 12 years. They are most frequently advised for children. For adult patients with teeth that are prone to decay, for teeth that have not had a restoration, or for teeth that have already experienced decay, we might also suggest dental sealants. Dental sealants can be applied in just one quick, comfortable visit to our office. Sealants can be an effective tool for halting decay and maintaining the health of your smile.
Our dentist can administer a fluoride treatment to remineralize and fortify your tooth enamel if your teeth are more susceptible to developing cavities. Call Wausau Smiles at 715-842-3933 right away to make an appointment with Dr. Aaron Bushong and find out more.
Water and a number of foods naturally contain the mineral fluoride. We may suggest fluoride therapy to further strengthen your teeth and prevent cavities even though you already get a certain amount of fluoride from your diet and from using fluoride-containing toothpaste.
Your teeth get stronger and are shielded against tooth decay thanks to fluoride. Bacteria, sugars, and acids continuously assault and demineralize the enamel layer of your teeth as you eat and drink throughout the day. Fluoride prevents tooth decay and cavities by remineralizing the tooth enamel. Fluoride is crucial for children as their teeth erupt because it can strengthen teeth as they grow to ensure that they are sturdy and healthy.
During your routine dental examination, our dentist will frequently prescribe professional fluoride treatment. If your teeth are prone to decay or if you aren't getting enough fluoride from other sources, we may also offer additional treatment. Professional fluoride is offered as a foam, gel, or varnish. One method our dentist uses to help you maintain the health of your smile for a lifetime is fluoride therapy. We invite you to get in touch with us right away if you'd want additional details on fluoride's advantages and preventative dentistry. We can't wait to take care of your smile!
It's always simpler to prevent dental issues than to fix grin damage. At Wausau Smiles, our dentist and staff are ardent proponents of preventive care and provide a range of procedures to help keep your mouth and smile healthy and free from illness and decay. Additionally, we assist you in creating a successful home-care routine. To learn more about the advantages of preventative care and to schedule a consultation with Dr. Aaron Bushong, contact us at 715-842-3933 right away.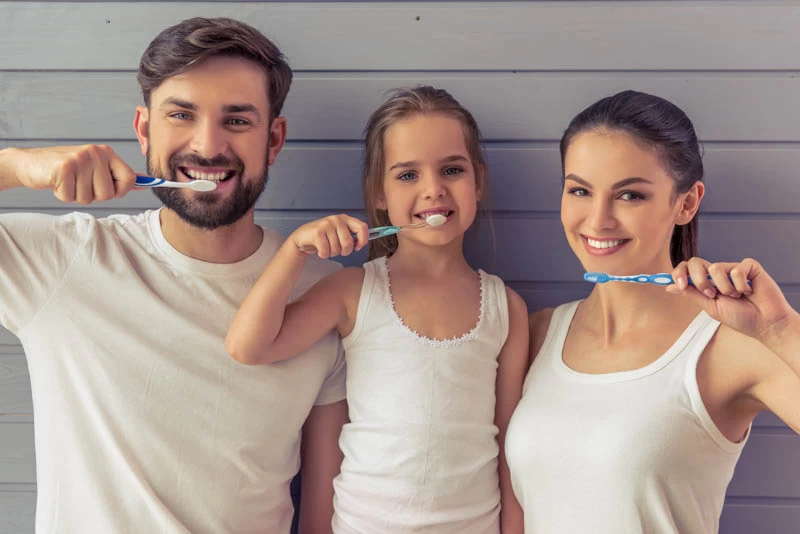 Preventive care aims to safeguard your smile from harm from dental disorders such gum disease, tooth decay, and periodontal disease. Before these conditions result in damage that needs to be fixed, preventive dentistry strives to stop them. To assist you in maintaining the healthiest possible condition of your smile, we provide a variety of preventative dental procedures. Visits to our clinic periodically ensure that we catch any early symptoms of damage and treat them before they worsen and become uncomfortable. These procedures include dental sealants and cleanings.
You can take a number of actions to stop tooth decay and cavities. In order to reduce your risk of getting cavities, our dentist advises that you abide by the following recommendations:
Brush and floss your teeth every day. You should brush at least twice a day and floss at least once a day. Use a soft-bristled toothbrush and a fluoridated toothpaste.
Maintain a balanced, healthy diet with a limited amount of very sugary or acidic foods.
Visit our office at least twice a year for a routine tooth cleaning and dental exam.
Ask your dentist about dental sealants and fluoride treatment to see if they are right for your smile.
To learn more about preventive care, we invite you to call 715-842-3933 or visit us today!
Dr. Aaron Bushong can perform a tooth extraction when your tooth is so severely damaged that restorative methods are unable to restore it. This will remove the tooth from your mouth before it can endanger your oral health or your remaining teeth. After that, you and our dentist will decide which kind of replacement is best for your requirements. To schedule an appointment at Wausau Smiles and to learn more about tooth extractions in Mosinee, Wisconsin, call our office at 715-842-3933.
The removal of a tooth is called a tooth extraction. While we try to prevent the necessity for tooth extraction whenever feasible, there are several problems that can make it the best option for restoring the health and function of your smile. If you require one of our great tooth replacement procedures to bring back the health, beauty, and functionality of your smile, we would be pleased to offer it to you.
Several conditions may necessitate tooth extraction. Among these are:
Severe infection that has destroyed a significant portion of the tooth and supporting bone structure
Serious decay that has damaged a tooth beyond repair, making a successful restoration impossible
Crowding caused by too many teeth to properly fit in the mouth
For your dental procedure to be as painless and comfortable as possible, our dentist takes considerable care and competence when extracting a tooth. Detailed post-treatment care instructions will also be given to you so you can properly care for your smile as it heals. We urge you to call or stop by our welcoming dental office now for more details and to set up your individualized consultation. We're dedicated to making your smile better!